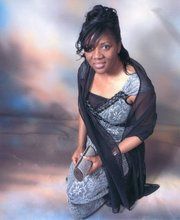 Marsha Edwards is a Jamaican living in Sheffield. She is a committed Christian. Marsha has recently completed a degree at Sheffield University and was due to attend her graduation ceremony on 22 July 2011. She was also heavily involved in the Prison Ministry where she attended prisons in South Yorkshire to encourage inmates to have a positive outlook on life regardless of their current situatio...ns.
Marsha was removed from her house for immigration reasons on Wednesday 20th July by South Yorkshire Police and held prisoner at Moss Way Police Station until Thursday night when she was taken to Yarl's Wood Detention Centre, Bedfordshire.
The last correspondence Marsha received from the home office was in March of this year, when she was requested to send her passport and other documents to them. She submitted the documents as instructed including an application to remain in the country. Marsha was awaiting a reply from the Home office to her recent application to remain in the country; she has never hidden her identity and has given the authorities all her details.
Whilst she was incarcerated at Moss Way Police Station her Pastor was denied the opportunity to see her even just to pray with her. Members of her church found it difficult to pass advice to Marsha because they had been told lies by South Yorkshire police officers that she is sleeping etc. Marsha was denied a request to call a solicitor. Information regarding a solicitors contact details left by Church members was not passed to Marsha until 11pm Thursday night when she was boarding the van to go to the detention centre.
To be removed in this manner was totally unjustified given immigration knew where she was. Officers knew that if she was allowed to speak to a solicitor (other than their duty solicitor) there would be a chance she would be released, therefore they withheld the vital information.
Do we sit back and allow this type of injustice to continue, she was not a threat to society, she was not claiming any benefits in fact by completing her degree and carrying out her prison ministry she was more of a role model than most UK residents.
Please support by visiting Marsha's Website @ (http://www.wix.com//i11628/marsha-a-edwards-appeal) you can visit her facebook page through this site and pledge your support by pressing 'Like' on her page. You can download a pdf petition sheet and collect signatures and post all competed forms to the address shown on the website and you can make a donation to help cover Marsha's legal fees.
Thank you in anticipation for your support.